News & Insights
Advanced Government Services
PRK Livengood is proud to represent minority and wom

en-owned businesses like Tacoma-based Advanced Government Services (AGS).  Arti O'Brien, President of AGS and Tanzania, East Africa born, is the spirited entrepreneur behind this successful traffic control services company.
Founded in 2003 and acquired by Arti in 2016, AGS serves clients throughout Washington state, and most recently expanded into Oregon.  AGS manages every aspect of traffic control including personnel, equipment, pilot cars, work zone signs, lighting and more.  Arti and her leadership team have plans to continue growing as new markets demand their services.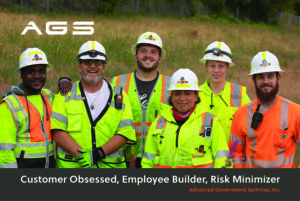 At the heart of this road safety company, is a female business owner who exudes the drive and devotion of a twenty-something entering the start-up world.  Arti's enthusiasm for being a business owner – within a male dominated industry – is nothing short of inspirational.  It sparks a quote by infamous entrepreneur Mary Kay Ash, Founder of Mary Kay Cosmetics, "Aerodynamically the bumblebee shouldn't be able to fly, but the bumblebee doesn't know that, so it goes on flying anyway."
Arti's lively accent – a combination of her East African roots and later years living in London – her polished style, and confident unassuming presence, is not the expected CEO of a traffic control company.  Something Arti is fully aware but not fazed by, at all.  Typically, the only woman in the room at trade association gatherings, she serves on numerous committees including the Association of General Contractors and Washington Department of Transportation.
When searching for a business to purchase, Arti wanted to find something that provided her with the opportunity to make a real impact and give back.  "I had fire in my belly and a deep passion to find a business I could radically enhance."  With a 30-year background in high-tech, her skillset was not industry focused, but it provided AGS with all the needed elements to fully streamline operations.
When asked why she chose to purchase AGS Arti replied, "It was an immediate attraction and I saw the company's potential for tremendous growth opportunities.  Fortunately, to date, my expectations have held true."
Arti's passion for growing the business, building awareness of the important services it provides, combined with her deep appreciation for her employees, is extremely motivating.  On January 31, 2022, Arti and AGS were presented with the  Associated General Contractors of Washington, 2021 Sub-contractor of the Year Award.   Arti was also recognized last year by the Puget Sound Business Journal, nominated as a 2021 Women of Influence honoree.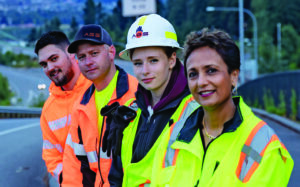 During her honoree interview with Journal,  published in the November 21, 2021 issue of PSBJ, Arti was asked what her greatest career challenge was and how she overcame it, "Building trust and credibility was a monumental task, as I began running a business in a very male-dominated industry in which I had zero experience. The learning curve was steep, but I did it. In a very short period of time, I had to be able to represent myself as a knowledgeable, strong woman who knew her business and was industry savvy so that those I was meeting with or speaking to — primarily men — would respect me for my capabilities. I had to do this quickly and effectively as I could not afford to have my customers or competitors' question AGS's performance."
AGS has received three consecutive years with no indemnity or time loss payments, and in 2017 received the prestigious Safety Recognition Award from Washington State Labor and Industries.  There is no doubt Arti O'Brien, and her dynamic team, are on course for continued success in 2022 and beyond.  In the words of Anne Sweeney, Co-Chair of Disney Media Networks, "Define success in your own terms, achieve it by your own rules, and build a life you're proud to live."  PRKL is honored to have assisted Arti in solidifying her dream to purchase AGS, and looks forward to supporting her for years to come.
---
Visit Advanced Government Services for more information about the services they provide. For information about the services PRKL provided to this client, please feel free to contact attorney Gregory L. Russell directly.
Back to News & Insights