Employment Law
We provide proactive compliance counsel, policy development, and response to urgent employment matters, as well as dispute resolution and litigation defense in discrimination, wrongful termination, other employment-based matters. We additionally assist companies in contract development, and represent them in employment regulatory matters and administrative proceedings in a wide range of areas.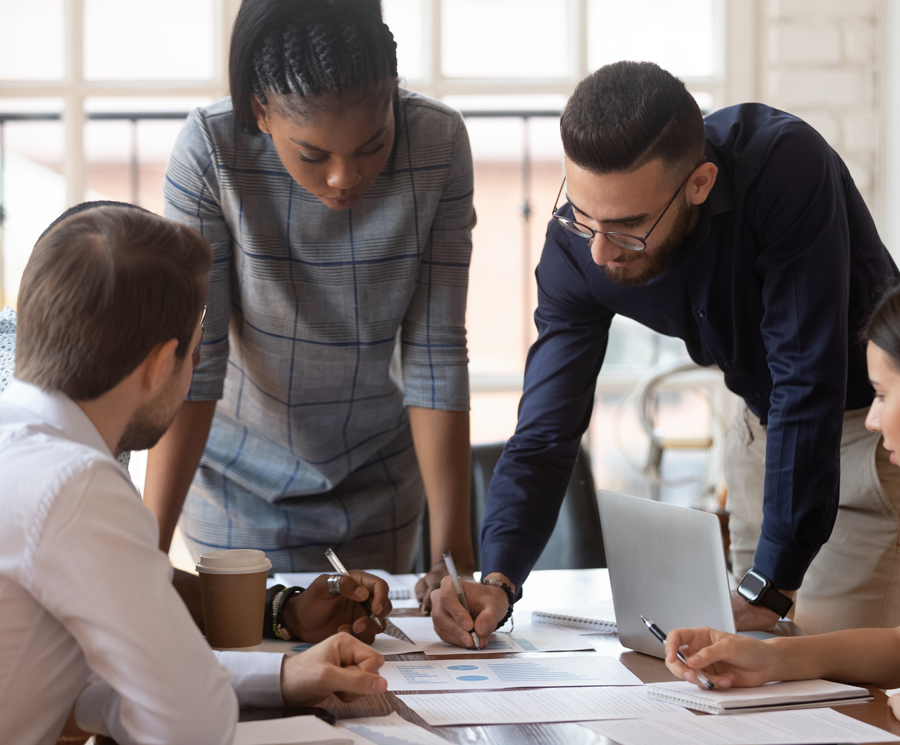 Providing transactional, dispute resolution and litigation services to employers.
Proactive Counsel
The best employment disputes are the ones that never arise. Avoiding employment litigation is often the result of the proactive development and consistent implementation of employment policies and practices.
We assist companies in a wide range of proactive employment counsel designed to protect employer interests, including advice and counsel on wage and hour matters, employment handbook and policy development, responding to complaints, work for hire and non-compete covenants and other matters.
Responding to Urgent Matters
In the employment arena, urgent matters can arise without warning, which require immediate response and action.  An employee may leave to join a competitor, and there may be a risk that valuable trade secrets may be misappropriated.  A disgruntled employee may file a discrimination or harassment claim.  A troubled employee may need to be terminated.
Our employment lawyers are adept at responding and providing advice and counsel when these and other issues suddenly arise. In most cases, by learning in advance about the nature of an employer's business, operations, and objectives, we can provide targeted and strategic advice focused on taking the appropriate action that will best serve and protect company interests.
We know that employment litigation can be disruptive, particularly when allegations are made that constitute a personal attack on the integrity of management. We work with clients to minimize business disruption in these circumstances so they can focus on business operations.
Employment Contractual Matters & Collective Bargaining Agreement Interpretation
We assist clients with contractual employment matters through drafting and reviewing employment, confidentiality, non-compete, and severance agreements. We also provide advice concerning collective bargaining agreement interpretation, and represent employers in employee and union grievances.
Regulatory Compliance
Many aspects of employment are highly regulated, including those involving wage and hour laws (including overtime, tips, and similar matters), anti-discrimination statutes, Family Medical Leave Act ("FMLA") application, other leave laws, and I-9 documentation.  We help employers understand and comply with these regulations, address specific circumstances that arise, and represent their interests in connection with administrative and other actions that may take place. (Learn more about our I-9 compliance representation practice and how we help employers in employment-based immigration matters).
Employment Litigation Representation
We represent and defend employers in Washington in a wide range of state and federally-based employment-related litigation, including alleged matters involving wrongful termination, illegal discrimination, harassment, and other illegal workplace practices.  We also represent companies in employment contract matters, including contract breaches, non-compete covenants, and trade secret matters.  We do not represent employees in employment litigation matters.
Our focus is first and foremost in seeking to resolve matters quickly in accordance with a company's objectives wherever possible, often through mediation.  Our representation extends to representing clients in litigation, as well as before administrative agencies and in arbitration.
Representative Matters and Services
The matters for which we commonly provide advice and counsel include:
Affirmative Action Programs
Employee Handbook / Personnel Policies and Procedures Development
Executive and Other Employment Contracts
FMLA/State Leave Act Compliance and Legislation
Independent Contractor Agreements
Managing Problem Employees
Preventing Discrimination/Harassment Claims
Responding to Post-Termination Demands
Separation and Severance & Release Agreements
Supervisor/Manager and Employee Training
Trade Secret Protection
Wage & Hour Compliance
Transitioning Difficult Employees
Workplace Investigations Training
Workplace Violence Prevention
Discrimination, Harassment, and Wrongful Termination Claims
Practice Team Leader – Marcia Ellsworth