News & Insights
Kenmore Air
Kenmore Air Celebrates 75 Years of Soaring High

What do Oprah, Bill Gates, Goldie Hawn, Kenny G, Jimmy Buffett, Gene Hackman, Meg Ryan, Steve Miller, Dave Matthews, Macklemore, the Nordstrom family and the late Chuck Yaeger and Paul Allen all have in common? Along with many other well-known names, they've all flown on Kenmore Air, a family-owned company celebrating 75 years.
Founded by Bob Munro in 1946, Kenmore Air is headed by President and CEO Todd Banks, grandson of the founder, and employs between 110 to 180 people depending on time of year. More than 100,000 passengers annually use its fleet of 27 aircraft, many of which take off and land on Lake Union and Lake Washington.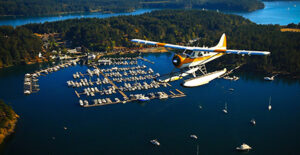 Billed as the largest seaplane airline in the continental United States, Kenmore Air's fleet includes 17 de Havilland Beaver and Otter seaplanes, two Cessna 180 floatplanes used for charters, two Piper Super Cubs and two Cessna 172s used for seaplane ratings training. The company also flies wheel planes, like the Cessna Caravan and the Swiss-built single-engine turboprop Pilatus PC-12, for chartered flights to and from popular destinations like Palm Springs, Sun Valley, Las Vegas, Alaska and Bandon Dunes.
Back to News & Insights